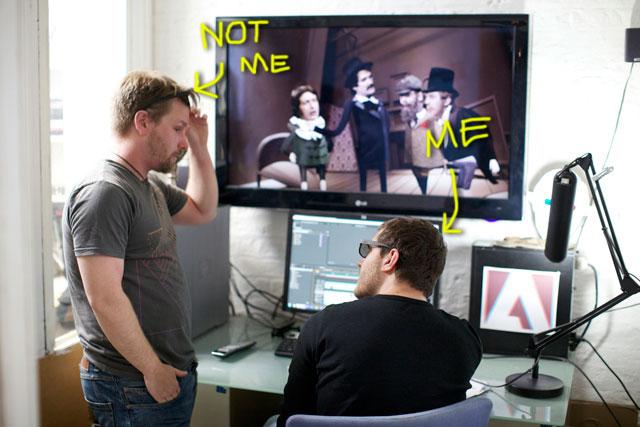 Throughout my career I have been using Adobe products to create the work that I do, just like hundreds of thousands of others worldwide. However in November 2010 I was taken on board by Made Visual studio, with the task of researching Stereoscopic animation predominantly in After Effects, and to produce a document and series of tutorials based around workflows in After Effects. Over three month I amassed a huge amount of information, had produced many tests and experiments, been on a Stereoscopic training course at Sony HQ, Basingstoke with the ultimate task of teaching and then being "stereoscopic technical advisor" to the 14 chosen animation companies working on A Liar's Autobiography.
Having done most of my research in CS5, it was only nearer the end that AE CS5.5 was released… which included the "Create Stereo 3D" camera button! This was to be honest, a bit of a relief, as it meant that companies would not have to modify their workflow too much in order to produce successful stereo imagery (though I had found perfectly suitable ways of working without the need for CS5.5!) There was still a fair amount of learning and then teaching to be done in order to avoid things like keystoning or divergence, but we got there in the end.
During my research Made Visual got in touch with Adobe, who were interested in hearing more about the project. After a couple of meetings and seminars with them, they came on board as sponsors for the film. Not only were the companies involved leased Production Premium CS5.5 for their offices but we were also gifted an HP Z800 with a Quadro 400, 2x 15000rpm SAS drives, a Tesla (at one point), a 640GB Fusion IO setup and some ridiculous amount of RAM, for us to use as our main edit machine. Needless to say, it was a bit quick!
One of the most important things I developed for the project was a workflow in which we could be supplied with footage by the companies and be able to view it in stereo, or left/right at the click of a button. Ultimately this came down to using After Effects and Premiere, using Dynamic Linking, to update the Premiere timeline. We used a number of scripts on the project and a number of free rigs and tools to complete the animation which I have referenced at the end of this post.
As it stands as I write this, the film has been complete for nearly 6 months, it premiered at the Toronto Film Festival and is due for airing at the Tokyo Film Festival and in Rio. It is also getting special screenings at London Film Week hosted at the BFI in October, in which the general public can finally go and watch! Justin from Made Visual has been busy helping promote the film through Adobe TV and at IBC in Amsterdam. Both Justin and I are hosting a webinar via Adobe on Thursday 27th September, where we will speak in depth about the work we undertook and respond to questions and mockery from internet-goers.
For more information on the making of A Liars Autobiography, including video tutorials by myself please visit:
www.projectchapman3d.com
To watch me talking in a monotone about technical fun follow this link:
Coming soon!
And here are links to the scripts and bits that we couldn't have produced the film without:
Chris Kellers amazing AE stereo scripts: http://pinkau.com/download/aestereoscripts.zip
Stefan Voigts excellent C4D camera rig: http://www.svoigt.net